Welcome from The PHD Family
Welcome to The Potter's House-Dayton International Ministries website. We are honored to share with you this fantastic voyage that the Lord has placed us aboard. His Mercy, His Grace, and His Love are so phenomenal, as we "Occupy" until His glorious return!
There is great elation within our network about what the Lord has done, is doing, and has promised. This site is an opportunity for us to share with you the exciting and strategic things that He is executing through us in order to fortify His Kingdom influence in the earth. We, as Warrior Priests, have been equipped and empowered to show forth his glory…"Thy will be done…" Hallelujah!
Continue to look forward to an ever-evolving site with updates, news, and revelatory information that once applied will allow Him to manifest for, in, and through you…Welcome!
Word of God is invaluable, along with the "voice" that God has chosen and anointed to deliver life changing and dynamic messages and lessons throughout the year; year after year.
A seed sown into the life and voice of our man of God is not only wise, but a "sweet fragrance" unto God. Take this opportunity to sow, pray, believe and apply the Word spoken and expect a great harvest.
(Philippians 4:19-20
AMP)
There are also a few times a year that you can consider sowing intentionally into the life of our Bishop. If you were to sow $1000 per opportunity, it would not pay for the priceless sacrifice, preaching, teaching, and love that he has been graced to share.
So, if you sow $1 or $1 Million, it is not about the amount,
Below are other special opportunities for an intentional "Precious Seed" to be sown…
HEAR GOD and OBEY!
Founder's Day & Pastor's Anniversary (March)
Pastor's Appreciation (Oct)
Any day of the year is a great day to sow a seed of a "Sweet Fragrance".
The Potter's House-Dayton International Ministries
Thank you for Joining us!
Join us for Community Day at Greater Love Christian Church
We will participate in the "Singing of the Hymns" with Pastor Leon Wilkinson 2-3pm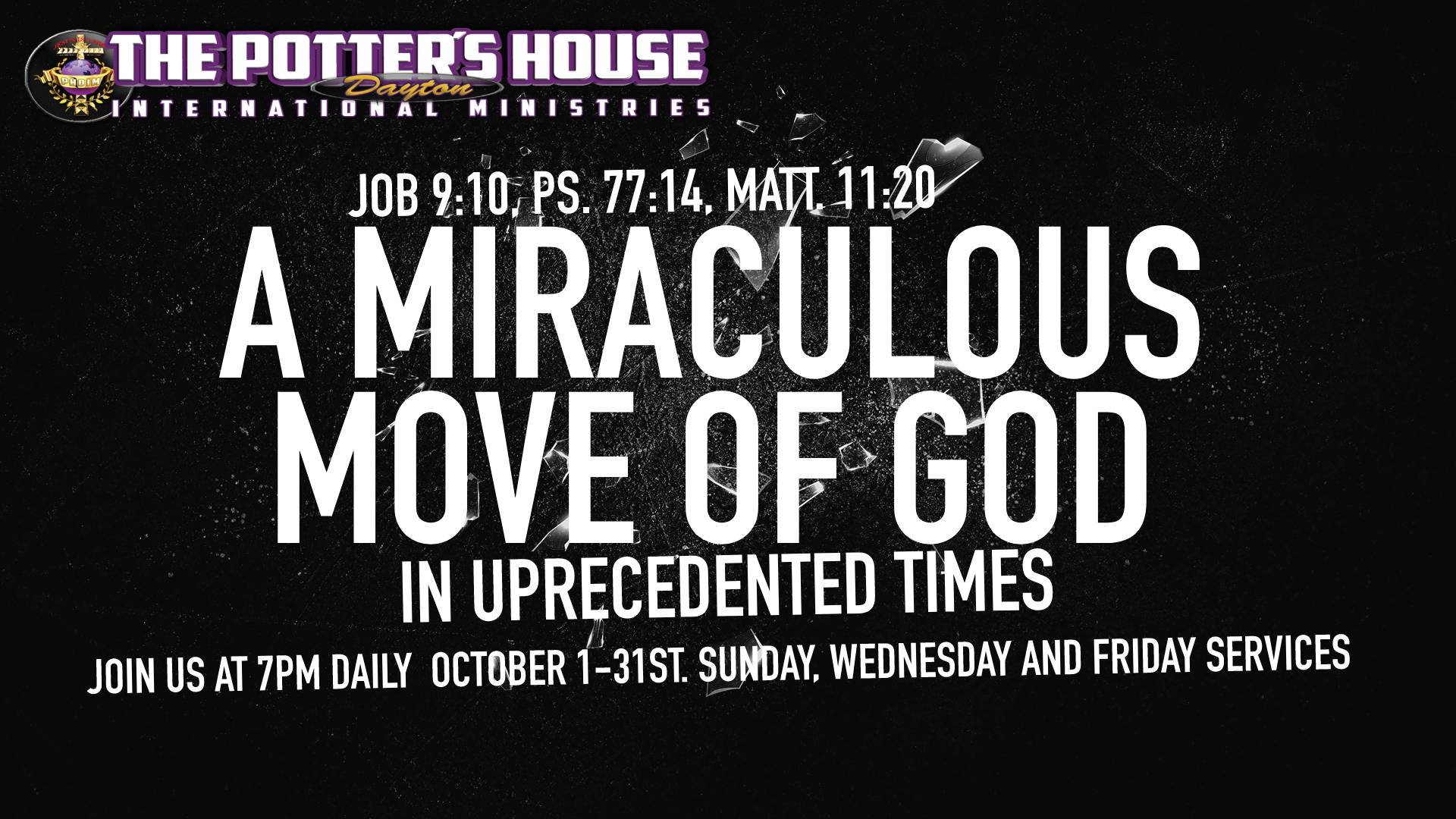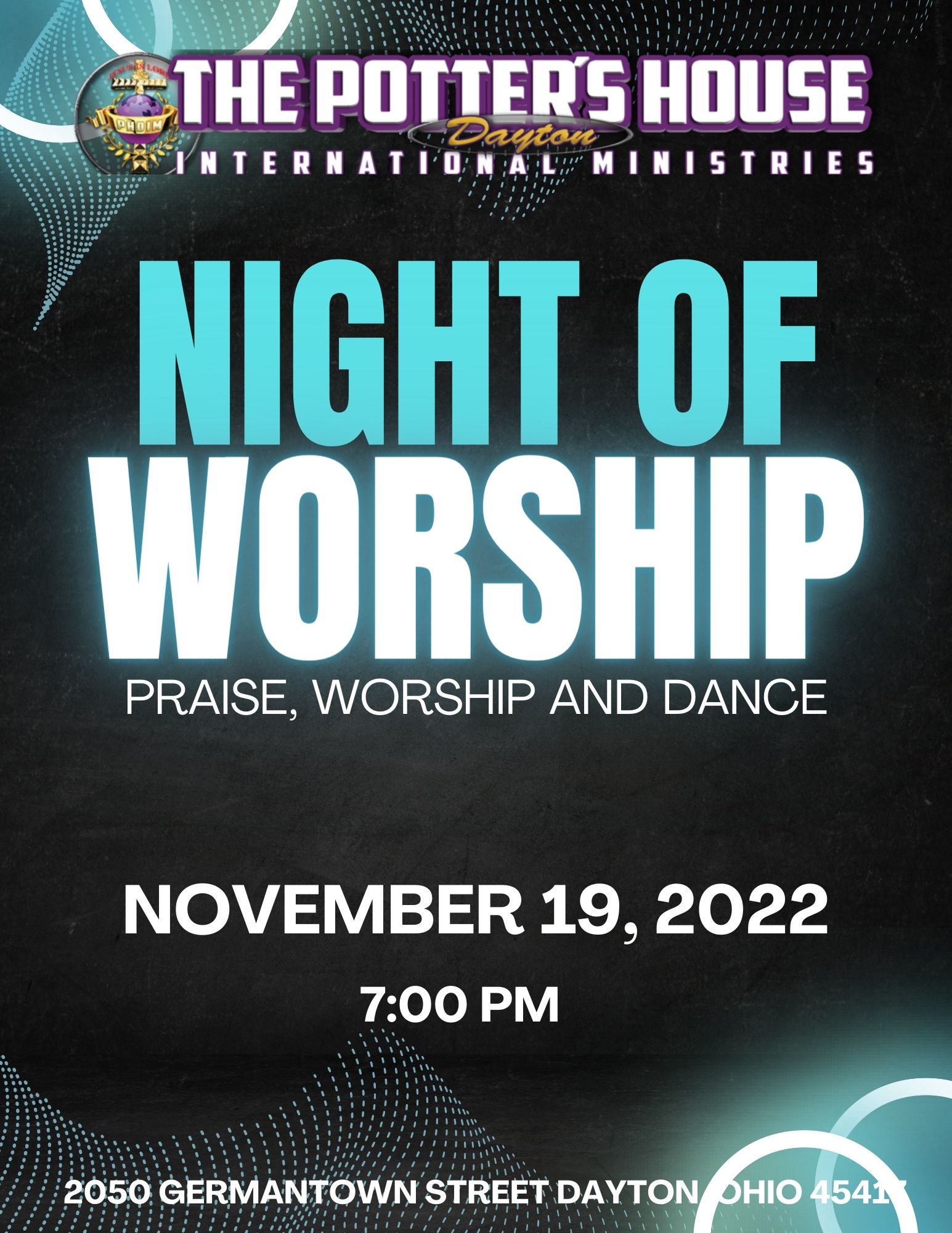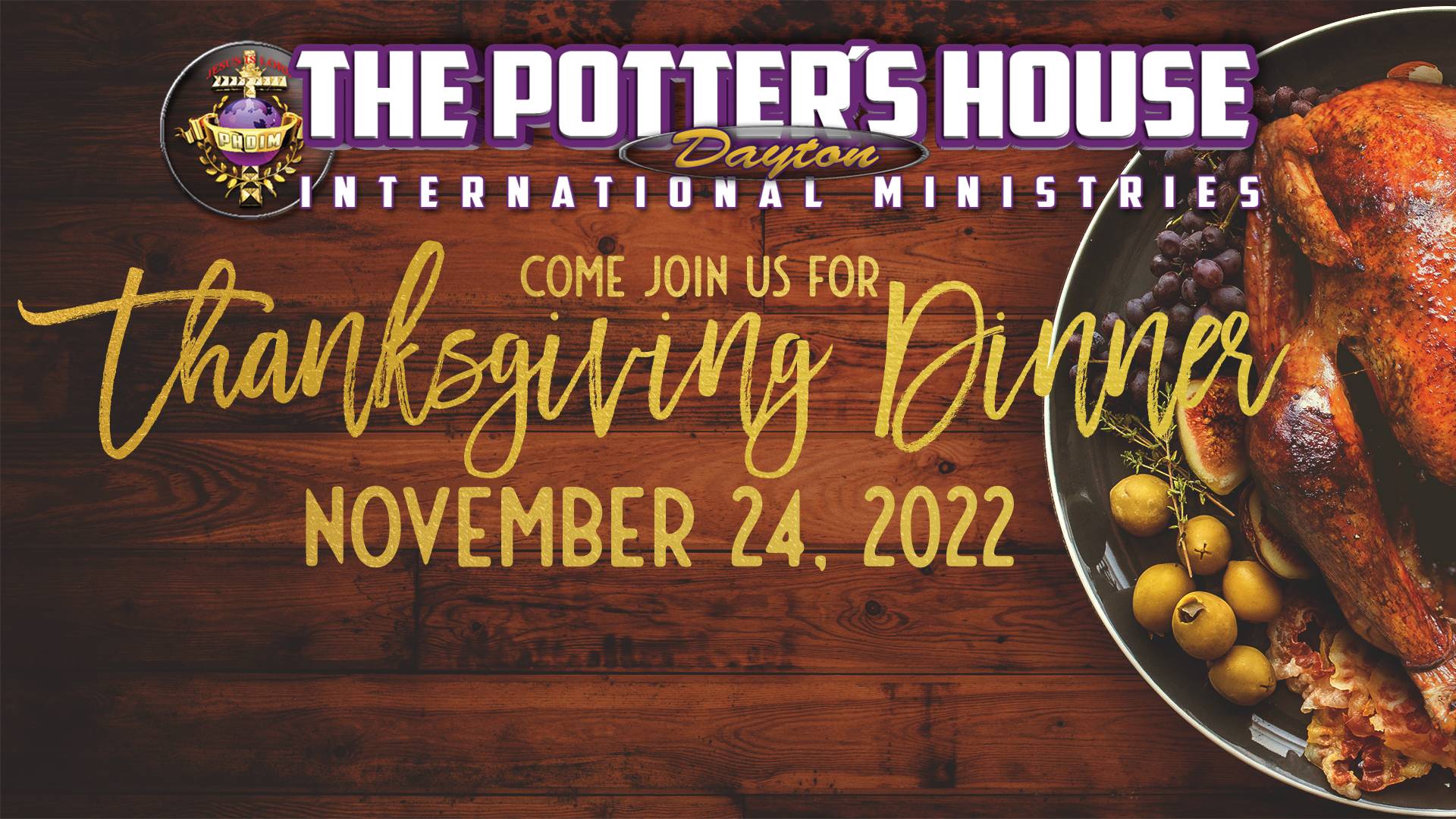 Breakfast of Champions/Daily Devotions
One Proverb (Chapter) per day
One Chapter of the book of James per week
31 Days of Revelation
Throughout the fast, allow this time to be used to break the yoke of proclivities, tendencies, habits, addictions, lusts,, distractions, and illicit, inordinate hobbies.
Monday October 3rd at 6pm
No Desserts (Candy, Cookies, Pies, Cakes, Ice Cream, Sweets, etc.)
Breads (things with yeast)
Week 2

Monday, October 10th at 6pm
Week 3

Monday, October 17th at 6pm
Mon
Week 4

Monday, October 24th at 6pm
ONLY

Vegetables (No white Potatoes)
Monday, October 31st at 6pm
Wednesday, NOvember 2nd at 6pm
21 Days of Consecration
November 4-21 Daniel Fast
Guidelines For the Daniel Fast

Some of you may already be familiar with this type of fast, but for those who are unsure how to do this, we have included a list of what you may and may not eat while following a Daniel Fast. This type of fast is base on Daniel 10:2-3, "In those days I Daniel was mourning three full weeks. I ate no pleasant bread, neither came flesh nor wine in my mouth, neither did I anoint myself at all, till three whole weeks were fulfilled." We encourage you to read through the surrounding chapters to get a more thorough understanding of why Daniel was led to do this, and follow this plan as you believe the Holy Spirit is leading you.

Foods We May Eat (Fish is okay
too!)
All whole grains, including but not limited to whole wheat, brown rice, millet, quinoa, oats, barley, grits, and rice cakes.
Legumes include but are not limited to dried beans, pinto beans, split peas, lentils, black eyed peas, kidney beans, black beans, cannellini beans, white beans.
Fruits include but are not limited to apples, apricots, bananas, blackberries, blueberries, boysenberries, cantaloupe, cherries, cranberries, figs, grapefruit, grapes, guava, honeydew melon, kiwi, lemons, limes, mangoes, nectarines, oranges, papayas, peaches, pears, pineapples, plums, prunes, raisins, raspberries, strawberries, tangelos, tangerines, and watermelon.
Vegetables include but are not limited to artichokes, asparagus, beets, broccoli, Brussels sprouts, cabbage, carrots, cauliflower, celery, chili peppers, collard greens, corn, cucumbers, eggplant, garlic, ginger root, kale, leeks, lettuce, mushrooms, mustard greens, okra, onions, parsley, potatoes, radishes, rutabagas, scallions, spinach, sprouts, squashes, sweet potatoes, tomatoes, turnips, watercress, yams, zucchini, nuts, and sprouts.
Spring Water, Distilled Water, 100% All-Natural Fruit Juices, 100% All Natural Vegetable Juices