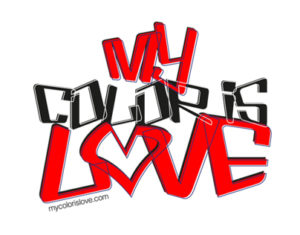 Vision Statement:

My Color is Love exists to encourage a community of individuals to engage in selfless acts of kindness, provide a vibrant environment for creativity and become a resounding example of "love in action", spreading a passionate call for unity and service.
What would the world look like if our favorite "color" was Love?
It is assumed that we are comprised of many races, but contrary to that thought, it is our belief that there is only one race, and that is the human race. United together we can make a significant difference in our world! It is our hope that we will all come to realize that there is much more to us than meets the eye and that beyond our differences there is a much more powerful universal connection.
Now let's envision a community of individuals who would declare that their true "color" is Love. A group who would not simply say it but live it out! Wow…. What a beautiful picture!
In pursuit of this, we launch this quest, "My Color is Love" – Welcome to the new community!
Embrace the message, spread the love…
At the end of the day, we all want something that is real, something that is true, something that we can count on. What if you received something you didn't deserve, something you weren't expecting, or something for nothing? What if you were the recipient of such a gift? What if you were the one that shared it? That's what True Colors is all about. Share your true color, the color of love.
Here are a couple of neat ideas to get you started; the next time you are in a drive-thru, pay for the person next in line; take a moment to visit a local hospital or hospice center and simply leave a card of encouragement to a family in need, gather a team of friends who would pitch in and make a care package for a service member or college student. Be creative; make it fun, you may never know how far a single act of kindness will go.
With each act of kindness, please leave a "True Colors" card to share the mission with the recipient. They might just be encouraged to embrace the message and spread the love, too!
When you have a minute, please return to this page and share your experience with the community. Our motive is not to "be seen", but that the world may see love in action!
Tell us your story!
28 Days / 28 Ways
We invite you to join us in making a difference in someone's life during the 28 days of February!
Here are a couple of ways you can participate:
Option 1: Challenge
Invite 28 individuals (family members, friends, colleagues, group members, etc… )

Select one of the 28 Acts (or create your own), implement and love on

Commit to showing your "True Color" at least once a week in the 28 days of February
Option 2: Super Challenge
How close can you get to 28 Acts of Kindness?
Select one of the 28 Acts (or create your own) to carry it out, and love on.

Repeat Step 1.
Invite family members, friends, colleagues, group members, etc. to join you (28 can be reached faster with friends!).
Want to leave an anonymous message of the "why" behind the what? Leave a My Color is Love "True Colors Card" to encourage 28 Acts to multiply and to possibly create a new story on our MCIL Dayton blog.
Feel free to let us know what you're doing and where by tagging your city and state. Let's rock February with love! Please use the following social media tags:
#MyColorIsLove
Click here to download and share the flyer: